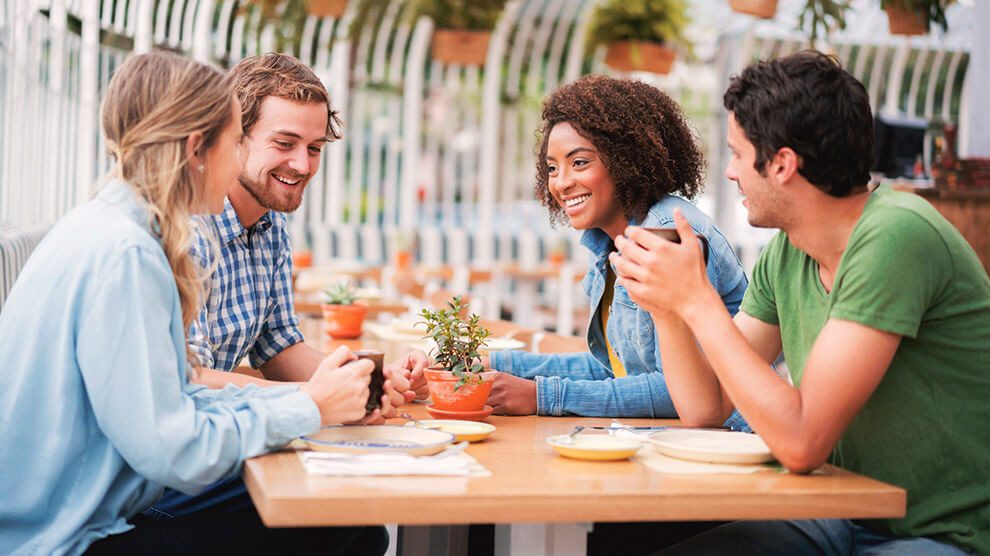 And that was the first little community the world ever saw!
Now, 7.4 billion people later, it sure doesn't feel lonely. People are everywhere! Even so, it's easy to get so wrapped up in our own lives that we don't take the time to really get to know others. We might mingle between worship songs or catch up in the breakroom at work, but that probably isn't real, authentic community.
Here's the deal: It's important to spend time alone with God, soaking up His Word. But He didn't intend for us to live in isolation. He specifically designed us to crave—and thrive in—relationship with others. We're our best selves when we're experiencing life's highs and lows with other believers. That means everyone, whether you're single or married, needs community.
Don't take it from us though. The Bible has a lot to say about this topic! Here are four reasons the Bible says community is so great.
1. Community is encouraging.
Being in community gives you the chance to be around people at different stages of their faith journey—and to bear their burdens alongside of them (Galatians 6:2). That's awesome, because everyone has something to teach and to learn. In fact, it creates the ideal environment to be a Barnabas (friend), pursue a Paul (teacher), or train a Timothy (student).
What it comes down to is lifting each other up, learning from one another, and being the friend each of us needs. That's how Hebrews describes community:
And let us consider how we may spur one another on toward love and good deeds, not giving up meeting together, as some are in the habit of doing, but encouraging one another—and all the more as you see the Day approaching (Hebrews 10:24–25 NIV).
2. Community is fun.
Community should never feel boring or forced. In fact, it should be the exact opposite. Psalm 133:1 (NIV) tells us, "How good and pleasant it is when God's people live together in unity!" Our culture can sometimes portray Christians as a pretty boring bunch. But that couldn't (or shouldn't) be further from the truth! Believers can be goofy, witty and just really fun to be around. Yes, community has a higher purpose. But it should also be enjoyable!
3. Community attracts the Holy Spirit.
The Bible says the Holy Spirit is present whenever believers gather together (Matthew 18:20). A great example of this was the early church of Acts, which made a habit of meeting together, eating together, and worshiping together. As a result, "the Lord added to their number daily those who were being saved" (Acts 2:46–47 NIV).
Being in church on Sundays is definitely important. But if you want to be a Christ follower, be one every day in the context of all your communities. That's where you'll see ministry happen.
4. Community fosters love.
We've probably all been to a wedding where the officiant recited the familiar words of 1 Corinthians 13, which ends with, "And now these three remain: faith, hope and love. But the greatest of these is love."
Paul held love above all else in his letter to the Corinthians. And he did the same with his letter to the Colossians: "Bear with each other and forgive one another if any of you has a grievance against someone. Forgive as the Lord forgave you. And over all these virtues put on love, which binds them all together in perfect unity" (Colossians 3:13–14 NIV).
Community is life-giving—and essential to following Christ. Scripture says that's because we're better together than we are alone (Romans 12:4–5).
It can be hard for some of us to commit to community, especially if we're guarded or prefer solitude. But community is God's desire for us—and a sign of a mature faith. Because at the end of the day, when we grow in our relationships with others, we're growing in relationship with Him!
Reprinted with permission from www.stewardship.com